Did you know that you can create custom WordPress admin pages with Cusmin? Custom admin pages are useful when you want to show some content to your users in the WordPress admin panel. It could be a help documentation, intro description, FAQ or legal documents. You can add images, tables or formatted text like you would do in your regular posts.
Cusmin custom admin pages support shortcodes.
Where to Start?
Go to Cusmin Settings page > Content tab > Custom Pages

Custom WordPress Admin Pages by Cusmin
Adding a New Custom page
Click on the New Custom Page button. A form will appear: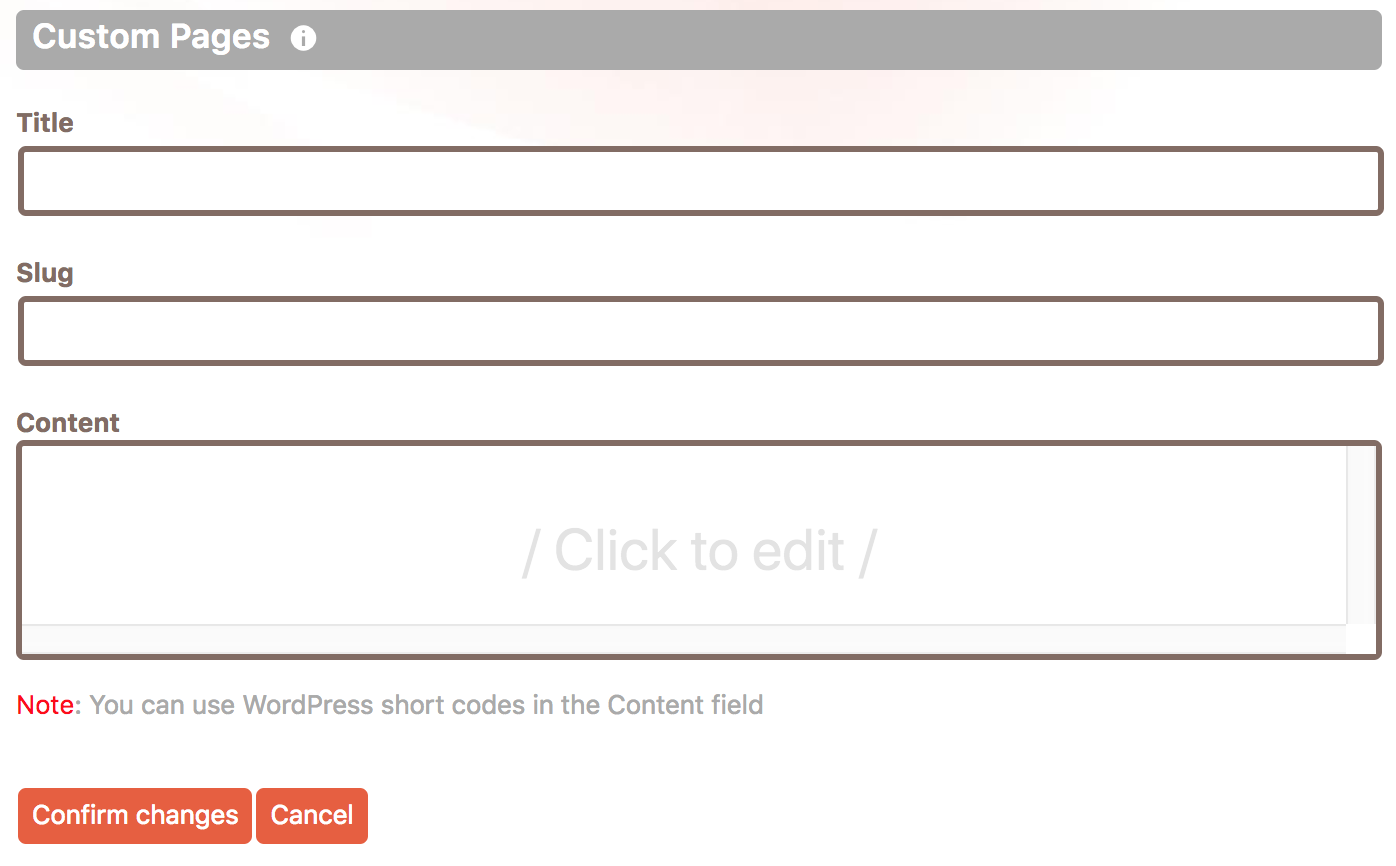 Add/edit custom page form


Fill in the Title field with your custom page Title.
The Slug field will be filled in automatically. You can leave it like that or change it to your own.
Click on the Content field to add your custom page content. Modal WYSIWYG editor will appear. Add custom content and click on the Save button. The modal window disappears.
Click on the Cancel button to skip saving the form.
You can add content like images, tables, text in different formats, short-codes etc, like you do with your regular blog posts.
Note: Clicking on the Confirm changes button will not save the changes to the back end. The changes will be preserved only after clicking the master Apply button.
Customizing WordPress Admin Menu Buttons
When you add custom pages, Cusmin will create top-level admin menu buttons for them and append them to the bottom of the admin menu:

Customize Custom Page Admin menu buttons
Click on the edit button (pencil icon) next to the menu item in the Cusmin Admin Menu Editor. There you would be able to fully customize your buttons. You can even change the order of your custom buttons.
Note: By default, Cusmin will set button names as the title pages. You can change button names here and use custom names instead page names.
Replacing WordPress Dashboard Page with a Custom Admin Panel Page
In some situations, you would rather have a custom page that shows up when user logs in, instead of the default WordPress dashboard page that contains dashboard widgets. Here are the steps to achieve that:
Go to Cusmin settings > Content tab
Click on the New Custom Page button
Fill in the Title, Url and Content fields
Click on the Confirm changes button
Click on the master Apply button
Navigate to Cusmin settings > Admin Menu tab > Admin Menu Editor
Locate your button at the end of the Admin Menu Editor
Click on the Edit icon (pencil), on the right
Change the title of the button (if you need)
Make your changes and click on Confirm changes button
Reorder your buttons if needed
Locate the item in the main WordPress admin menu
Right click on the menu item > copy link address, or right click > open in new tab
Make sure that you have copied the custom page address
Navigate to Cusmin settings > Login Page > Login Page Settings
Paste the link to Redirect after login to this page
Click on the master Apply button to save the changes
Your custom page will now show up whenever your user logs in